The Blendells: 1960s Chicano Rock Hit Makers
by Mark Guerrero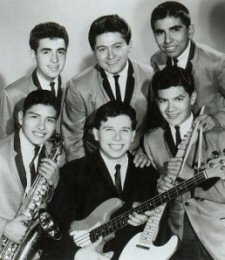 The Blendells were one of three East L.A. groups who had a national hit record during the period of 1964-65, along with The Premiers and Cannibal & the Headhunters. Their recording of Little Stevie Wonder's obscure song "La La La La La" peaked at number 62 on the national charts. However, it was number one in Phoenix, Arizona, where they performed as headliners for 11,000 people, Hawaii, and Los Angeles, at a time when the number two song was by The Beatles.

Mike Rincon, bass player and leader of The Blendells, was inspired to form a band after attending rhythm & blues shows in downtown Los Angeles in the late fifties and early sixties. Thirteen year old Mike would catch a bus by himself to see artists such as, Jackie Wilson, Johnny Otis, and Hank Ballard & the Midnighters at grand old movie theaters like the Orpheum and the Rialto. When Mike formed his own group, members came and went until he had the right musicians. At Cathedral High School in Montebello, where Mike attended, he found the first piece of the puzzle, drummer Ronnie Chipres, playing in the school band. Next he added lead guitarist Rudy Valona. Mike and the band had just finished a recording session that went well and Mike remembers saying that the band sure blended well. Later, he and Rudy sat on a curb outside the studio and used that idea to come up with the name Blenders, which later evolved into The Blendells. The "dells" part was an homage to the 1950s group the Dells. Rudy brought in sax player Don Cardenas and rhythm guitarist Tommy Esparza. Meanwhile, lead singer Sal Murillo was singing in a duo called Sal & Marge, who were already popular on the east side circuit. Rudy persistently called Billy Cardenas, no relation to Don, about managing the group. Billy finally heard them and decided to to so. According to Mike, it was Billy who suggested Sal as lead vocalist for the band. All six members in place, The Blendells played the East L.A. circuit and became very popular. At one memorable engagement at East L.A.'s Paramount Ballroom they were on the bill with an odd looking duo called Caesar & Cleo, who later became known as Sonny & Cher. The Blendell's "La La La La La" would later appear on Sonny & Cher's hit album "Sonny & Cher and Friends." Like The Premiers before them, they were taken into Stereo Masters studio in Hollywood and cut a record for one of Eddie Davis' labels. In this case it was Rampart Records, the same label on which Cannibal & the Headhunters' "Land of a Thousand Dances" was later released. Incidentally, it was The Blendells who were to back up The Headhunters on that hit record. The song "La La La La La" was brought to the band by drummer Ronnie Chipres. They were playing it at one of their gigs when Eddie Davis heard it and urged them to record it. Sal says it was recorded in one take. The record took off and the band was now in demand beyond Southern California. They performed on television shows such as L.A.'s "Ninth Street West" and the nationally televised "Hullabaloo."

At this point, lead singer Sal Murillo's mom entered into a contract dispute with the record company, which led Eddie Davis to ask Sal to leave the band. Ironically, the lead singer never toured with The Blendells, outside of the successful Phoenix concert. Sal got another manager and went solo. He did shows for DJ Kasey Kasem that included Johnny Rivers and the Righteous Brothers on the bill. Meanwhile, The Blendells went out on the road without a lead singer. Vocal duties were shared by Mike, Tommy and Rudy, with Rudy singing "La La La La La". Their tours, whose main mode of transportation was a rented U haul pulled by a car carrying the band, included performances in California, Arizona, New Mexico, Nevada, Idaho, Oregon and the state of Washington. They shared the stage with the Dave Clark 5, Roy Orbison, Dick Dale, The Ventures, The Shirelles, The Drifters, The Coasters, and Chuck Berry.

My band at the time, Mark & the Escorts, played many venues with The Blendells, including the Belair Rollerdrome in Pico Rivera, the Montebello Ballroom and the Shrine Auditorium. We shared the same manager/producer team and I attended Garfield High School with Rudy Valona and Tommy Esparza and knew them well. The Blendells, who were in their late teens, seemed very mature to my group, merely in our mid-teens. We looked up to them and were influenced by their playing style, which was purely East L.A. They were a tight band with Rudy's lead guitar on his twangy, funky Fender Telecaster, Tommy's chunka chunka rhythm guitar on his Fender Duo Sonic, Don's bluesy, screaming tenor sax, Mike and Ronnie's solid bass & drums, and Sal's smooth vocals. One time I substituted for Rudy with The Blendells at a gig in Long Beach, CA. It was a compliment that Rudy called me for the gig, especially being 15 years old, and I was thrilled to do it. I remember very little about the show except playing lead guitar on "La La La La La."

The Blendells broke up much too soon. They recorded only two singles, "La La La La La," backed with "Huggies Bunnies" and "Dance with Me," backed with "Get Your Baby." When "La La La La La " took off, Eddie Davis made a deal with Reprise Records to take over the record for wider distribution. "Dance with me" was also released on Reprise as a follow up single. Sal Murillo had left the group before "Dance with Me" was recorded, so the lead vocal on the record was done by Ralph Ventura, trumpet player for The Romancers, another popular east side band at the time. Interestingly enough, Billy Cardenas also had The Premiers and Mark & the Escorts record "Get Your Baby." We also recorded a version of "Dance with Me" at Billy's request. During one of their tours, Rudy and Tommy were let go after some inter-band member disputes and were replaced by Bob Hernandez of The Romancers and Johnny Diaz of the Rhythm Playboys. At times Andy Tesso, also of The Romancers, sat in. Meanwhile, Rudy, Tommy, and Sal formed another group which was called The Vaqueros, a name thought of by their manager to emphasize the band's Latino heritage. They recorded two singles, "Vaquero Beat," backed with "Oh So Tenderly" and "Hey Girl," backed with "Simple Minded Me." They also appeared on "Hullabaloo" as well as some local L.A. television shows. With the war in Viet Nam raging and the draft in full swing, Rudy, Tommy, Ronnie, Mike, and Sal were drafted. Ronnie became a second lieutenant and Sal served in Viet Nam with the special forces. Military service effectively put an end to The Blendells. However, in 1991 they reunited to perform at the Greek Theater at the "K-EARTH LATINO ROCK & ROLL ALL STARS" show, which included Little Willie G., Thee Midniters, Cannibal (solo), the Champs, ? & the Mysterians, Little Ray, the Salas Brothers, Chris Montez, Sunny & the Sunliners, Rosie & the Originals, Rene and Rene, and the Chuck Crews Band. According to observers, The Blendells sounded as good as ever. Recordings by The Blendells are available on several compilation CDs, including, "East Side Sound 1959-1968," on Dionysus Records, (P.O. Box 1975, Burbank, CA 91507) or www.dionysusrecords.com, and "East Side Sound, Vol. 1&2," (VSD-6017) and (VSD-6018) on Varese Sarabande Records (11846 Ventura Blvd., Ste. 130, Studio City, CA, 91604) or www.varesesarabande.com.
This article is based on telephone interviews by Mark Guerrero with three of the five original Blendells- Sal Murillo, Mike Rincon and Rudy Valona in May of 2000.
Update
On December 26, 2003, Rudy Valona, former lead guitarist of The Blendells passed away. I attended his memorial service in East L.A., along with Eastside musicians John and Lawrence Perez of The Premiers, Mike Rincon (formerly of The Blendells), The Blendells' former manager, Billy Cardenas, and many other musicians, friends, and relatives. He was a friend and will be missed.
mp3 Sound Byte
The Blendells 1964

The Blendells' "La La La la La" is available on compilation available at the link below,
which also features recordings by other East L.A. bands of the 60s.

The Blendells' "Huggie's Bunnies" is included on the compilation available on the link below, which also features recordings by other East L.A. bands of the 60s


The Blendells' "La La La La La" is included on the compilation available on the link below, which also features recordings by other East L.A. bands of the 60s


The Blendells' "La La La La La" and "Huggies Bunnies" are included on the compilation available on the link below, which also features recordings by other East L.A. bands of the 60s


Previous page || Go to next article