Passages

This page features related musical artists who have passed on, "related" meaning to the the content of this website, i.e. Chicano, Latino, Tejano, Eastside Sound, and East L.A. musicians. Also included are some who were influential contributors to Chicano culture in general.

Alan O'Day
songwirter, who wrote two #1 hits, "Undercover Angel," as a solo artist, and "Angie Baby," by Helen Ready. He also co-wrote "Rock & Roll Heaven," by the Righteous Brothers. Alan O'Day passed away at the age of 72 on May 17, 2013 after a long battle with brain cancer. Alan grew up in Coachella, CA where he was a member of local bands as a teenager, including the Renes, who consisted of Alan and six Chicanos. I met Alan through my friend, publicist Joe Ortiz, who played a couple of Alan's earlier bands. I had the pleasure of knowing him, as well as doing a gig and session with him. Although he had a home in Westwood, CA and also lived in Nashville, TN in recent years, Alan will be laid to rest in his beloved Coachella.

---
David Torres
keyboardist, songwriter, arranger, who was a member of the original Tierra in 1972, participating on their first two albums. After attending the Berklee College of Music in Boston, he was keyboardist and arranger for Poncho Sanchez for 22 years. He was an extraordinary musician who had the respect of all his peers, and most importantly a beloved person. David passed away on April 9, 2013 of a brain aneurysm.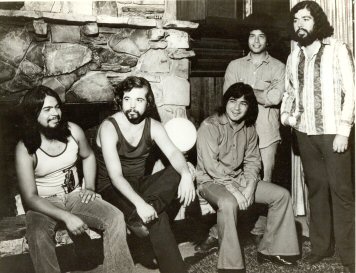 Tierra (1972)
David Torres is far left
---
Larry Cronen
keyboardist, who was an original member of Yaqui in the early 70s. Larry's father owned Cronen's music store in Montebello, CA, a place where many East L.A. musicians bought musical equipment in the 60s and beyond. Larry passed away on April 9, 2013.


Yaqui (1972)
Larry Cronen top right
---
Robert "Bobby" Gurrola
guitarist with the popular 1960s East L.A. band, The Counts. Bobby's first band was Bobby & the Esquires, in which he was a singer and lead guitarist. Bobby passed away on September 25, 2012 from prostate cancer. Click here to visit a webpage dedicated to his life.

---
B.B. Cunningham
(b. Blake Baker Cunningham, Jr.)
singer/songwriter/musician/recording engineer from Memphis, Tennessee. B.B. co-wrote and sang the 1967 hit song, "Let It All Hang Out," with his band The Hombres. B.B.'s song was later covered by John Mellencamp. In 1997 he joined Jerry Lee Lewis as his bassist, a job he held for the last 16 years. In 1972, B.B. engineered eight of my songs including perhaps my best recording, "I'm Brown." I had the pleasure of recording with B.B. at Independent Studios in Studio City in 1972. John Valenzuela, Rick Rosas, Ernie Hernandez and I enjoyed working with B.B. and thought he captured our sound better than anyone we had worked with. He was a gentle soul and very easy to work with. B.B. Cunningham had been working as a security guard due to Jerry Lee's less frequent touring in recent years. Tragically, on October 13, 2012. B.B. was shot and killed after he came to the aid of another security guard during a shootout at the Memphis apartment complex where they worked, according to police. B.B. Cunningham was 70 years old.

---
Enrique Bolaños
Mexican boxer, who was the number one contender for the lightweight title in the late forties. He was a great, and very popular fighter in his time, particularly in Los Angeles, where his fights would regularly sell out the Olympic Auditorium. His record was 79-22-5, with 44 knockouts. Before Oscar De La Hoya, Bobby Chacon, Mando Ramos, and Art Aragon, there was Enrique Bolaños. Bolaños passed away on Monday, June 4, 2012 in Pasadena, California at the age of 87 of heart failure. Enrique was my nino (godfather).

---
Ron Lemos
rock and jazz guitarist and educator, played with many East L.A. bands including The Royal Checkmates, The Runabouts, Sly, Slick, & the Wicked, Thee Midniters, After Dark, Backstreet, Yesterday's Dream, and the Mad Latins. Lemos, who grew up in City Terrace, earned a Phd in information systems and was a professor at Cal State Los Angeles. Ron Lemos, who had been battling colon cancer for years, passed away at the age of 63 at his home in Walnut, CA on March 3, 2012.

---
Steve Falomir
long time bassist for Tierra passed away due to a stroke on January 21, 2012 in Los Angeles.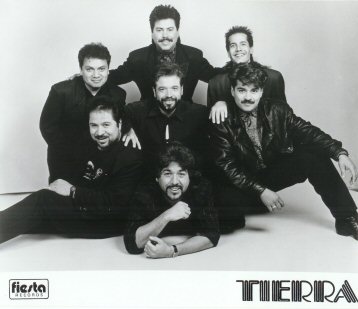 Tierra (c. early 80s)
Steve Falomir is front left
---
Tony Duran
a talented and respected guitarist/saxophonist who played sax with The Premiers of "Farmer John" fame in the mid-60s and guitar with Ruben & the Jets, produced by Frank Zappa, in the early 70s. Tony passed away at his home in Bruceville, Texas on December 19, 2011 at the age of 66 after a two year battle with prostate cancer. Tony also played on tracks on several Frank Zappa and The Mothers albums. Duran also toured with Zappa's Grand Wazoo Orchestra, as well as The Mothers in 1972. A true veteran of and contributor to the "Eastside Sound," Tony also played with Thee Ambertones in the 60s, Frankie "Cannibal" Garcia in the 70s, and Little Willie G. of Thee Midniters in the 80s. Tony Duran was buried at Oak Wood Cemetery in Waco, Texas on Dec 21st, 2011. Click here to view his obituary.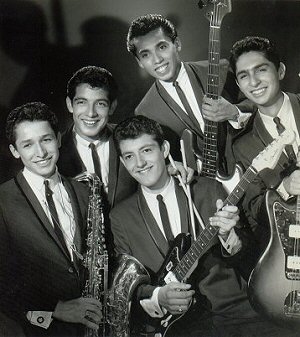 The Premiers (c. 1965)
Tony Duran is far left holding saxophone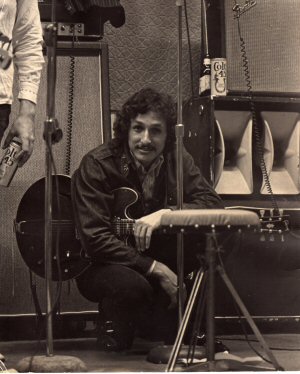 Tony Duran (early 70s)
---
Gilbert "Magu" Lujan
painter/muralist/sculptor passed away July 24, 2011 at the age of 70 after a long battle with cancer. "Magu" was part of the ground breaking legendary artist's group Los Four in the early 70s. His work was featured in museums and galleries, as well as in the Hollywood & Vine subway station and other public places. He was one of the first Chicano artists to establish an international career.

---
Gil Bernal
legendary saxophonist and vocalist, who played and recorded with great and diverse artists such as Lionel Hampton, Ray Charles, Spike Jones, Henry Mancini, Quincy Jones, Duane Eddy, Big Mama Thornton, and Ry Cooder. He played on Cooder's 2003 "Chavez Ravine" CD, including on Lalo Guerrero's new version "Los Chucos Suaves." Gil Bernal passed away on July 17, 2011 of congestive heart failure at the age of 80. Gil's saxophone graced classic records such as "Rebel Rouser" by Duane Eddy, and "Youngblood," "Searchin'," and "Smokey Joe's Cafe" by The Coasters.

---
Sammy "Bones" Ramos
a talented East L.A guitarist/vocalist who was part of the "Eastside Sound" in the 1960s, having been a member of many bands most notably, The Emeralds. He also worked as a recording engineer at Capitol Records in the '80s. His main instruments were trumpet and guitar and he was a good vocalist. Bones passed away at Beverly Hospital in Montebello, California on July 3, 2011.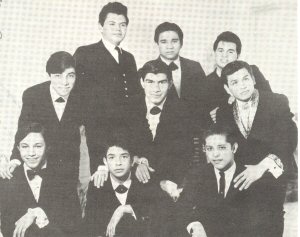 Thee Emeralds (c. 1965)
Sammy "Bones" Ramos (front center)
---
Tony "Ham" Guerrero
Tejano music pioneer and innovator, passed away on January 29, 2011 at the age of 66. Tony was born in San Angelo, Texas in 1944. In 1968, after graduating from Berklee School of Music in Boston, Guerrero returned to Texas with his trumpet and jazz stylings and incorported them into Tejano music as a member of Little Joe & the Latineers. In 1973, he formed his own band, Tortilla Factory, who toured extensively and spread the new sound though Texas, California, Illinois, and other parts of the U.S. Tortilla Factory was nominated for a Grammy award in 2006 and were also inducted into the Tejano Hall of Fame. Tony's son, Alfredo Antonio Guerrero, who's a member of Tortilla Factory will carry on the the band and his father's legacy.

---
Jess Porras
alto saxophonist and co-founder of The Mixtures passed away at the age of 69 on December 26, 2010 in San Diego, California from complications of prostate cancer. To fans of the "Eastside Sound," The Mixtures are best known for two of their classic recordings, "Olive Oyl" and "Stompin' At the Rainbow." After playing with The Mixtures and a stint in the army, Jess earned bachelors and masters degrees in speech pathology and audiology at San Diego State. He was a professor at his alma mater, teaching teachers in the fields of special education and learning disabilities. Click here to go to a Jess Porras memorial page.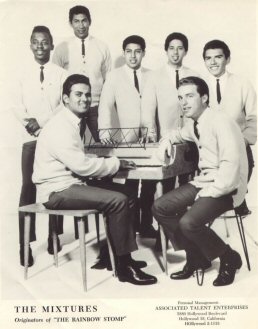 The Mixtures (c. 1962)
Jess Porras (standing center)
---
Frank Zuniga
original bassist for The Premiers passed away on December 22, 2010 at home in Cathedral City, California at the age of 65 from chronic obstructive pulmonary disease. The Premiers, whose record "Farmer John" reached number 19 on the national charts in 1964, were the first East L.A. band to score a national hit. Frank Zuniga is survived by his wife of 44 years, Joanne and his three children Frankie, Tony, and Juanita.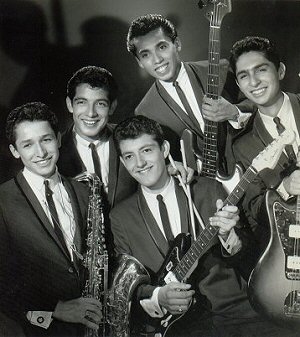 The Premiers (c. 1965)
Frank Zuniga (top center holding bass)
---
Benjamin A. Velasquez aka "Spider"
lead guitarist with 60s East L.A. band, The Desires passed away on Sunday November 28th, 2010 in West Covina, CA at the age of 65. Velasquez was co-writer of the "Eastside Sound" classic "Dance With Me," which was first recorded by his band and later by The Blendells and Mark & the Escorts in the mid-60s. Velasquez later played with Little Willie G. of Thee Midniters and God's Children, who had both Little Ray Jimenez and the aforementioned Little Willie G. as lead vocalists. He also served in the U.S. army from 1963-1967. Stationed in Germany he served as an engineer on the Pershing Missile Project, earning him three distinct service medals.

---
Hector "Rudy" Regalado
timbalero, percussionist, band leader, and composer passed away on November 4th, 2010 in Las Vegas, Nevada at the age of 67. Rudy was a member of El Chicano starting in the early 1970s and in recent years up to the time of his passing. Regalado was also a member of Yaqui in the early 70s and his own group, Chevere, in recent years.

---
Richard "Scar" Lopez
founding member of Cannibal & the Headhunters, the East Los Angeles vocal group that scored a national hit in 1965 with their version of "Land of a Thousand Dances." Lopez passed away at the age of 65 of lung cancer on July 30, 2010 in a convalescent hospital in Garden Grove, California.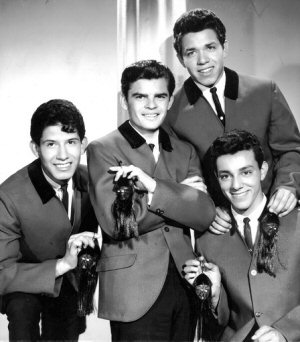 Cannibal & the Headhunters (1965)
Richard "Scar" Lopez (2nd from left)
---
Jaime Escalante
Bolivian born educator whose spectacular success teaching advanced mathematics to students who had been considered "unteachable" at East L.A.'s Garfield High School attracted national attention. His story was told in the acclaimed film "Stand and Deliver" (1988), and Escalante became a national hero. Jaime Escalante passed away at the age of 79 after a long battle with cancer on March 30, 2010.

---
Les Kalil
keyboardist for 60s "Eastside Sound" band Ronnie & the Pomona Casuals, passed away on March 19, 2010 at Mission Hospital in Mission Viejo, California.. Although the band was based in Pomona, they were managed by Billy Cardenas and were part of the East L.A. circuit in the 1960s. Les passed away on March 19, 2010 at Mission Hospital in Mission Viejo, California.

---
Victor Pantoja
Latin percussionist, perhaps best known for his work with Coke and Pete Escovedo in the group Azteca, passed away on March 12, 2010. Known by his fellow musicians as "El Negrito," Victor was a product of Spanish Harlem. Pantoja also worked with luminaries such as Willie Bobo, Cal Tjader, Gabor Szabo, Herbie Hancock, Santana, Malo, Stan Kenton, and Buddy Miles.

---
Lolly Vegas
(born Candido Albelando Vasquez)
founding member of Redbone with his brother Pat, Tony Bellamy, and Pete "Walking Bear" DePoe, passed away March 4, 2010 at his home in Reseda, California at the age of 70. Lolly was an extremely talented singer/songwriter and guitarist, who wrote and sang Redbone's biggest hit "Come and Get Your Love."

---
Bobby Espinosa
founding keyboardist of El Chicano, passed away Saturday, February 28, 2010 at White Memorial hospital in East Los Angeles at the age of 60. His Hammond B3 sound and style was an integral part of El Chicano's sound, which graced their live shows and recordings. Bobby's distinctive organ style was featured on El Chicano's first hit record,"Viva Tirado" and his piano and organ work contributed to the success of of their 1973 hit "Tell Her She's Lovely."

Click here to see video tribute to Bobby Espinoza

---
Tony Bellamy
(born Anthony Avila)
guitarist/vocalist and founding member of Redbone, passed away on Christmas morning, December 25, 2009 in Las Vegas, Nevada at the age of 69. Redbone became established as a Native-American rock group in the 1970s. They reached the Top 5 on the Billboard Hot 100 charts in 1974 with the hit song, "Come and Get Your Love." Tony Bellamy grew up in a family of dancers and musicians and learned to play the flamenco guitar as part of his musical education. Before joining the band Redbone, Tony had performed with Dobie Gray and was a member of the San Francisco band, Peter and the Wolves, that evolved into the psychedelic band Moby Grape.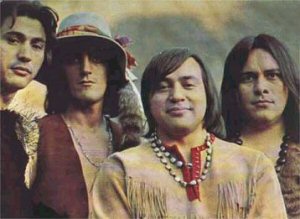 Redbone (c. 1972)
Tony Bellamy (2nd from left)
---
Isaac Avila
San Fernando, CA based singer/guitarist, who served as lead vocalist for Tierra in the 90s and early 2000s, passed away on August 31st, 2009. Isaac also played with The Company Band and his own band, The Pirates.

---
Travis Edmonson
folk musician, singer/songwriter, and half of the successful folk duo Bud & Travis from 1958 to 1965, passed away on Sunday, May 11th, 2009 at the age of 76. He grew up in the Arizona border town of Nogales from where he would often cross the border as a teenager and listen to mariachis and soak up the music and culture of Mexico. Travis spearheaded bringing Mexican music into the folk era of the '60s and it was thanks to him that many non-Latino Americans heard the old Mexican songs for the first time. In this way Travis helped expand the audience for Spanish-language songs in America. Bud & Travis made about 10 albums and were often on the bill with the likes of the Kingston Trio and Peter, Paul & Mary. They also recorded versions of "La Bamba" and "Malaguena Salerosa," which reportedly sold a million copies in the 1950s. I had the pleasure to first meet Travis with my dad, Lalo, in the 70s in Tucson, where he lived from around that time until his passing. He was very charismatic and a very nice man, as well as a talented musician and performer. I wouldn't meet him again until the last few years of his life when he was in a wheelchair and having other health problems. Despite these challenges, he maintained a positive outlook and kept in touch with music the best he could. He was a special man and will be missed.

---
Alfredo Arteaga
poet, author, scholar, and professor at U.C. Berkeley, passed away in July of 2008. In April 2005, at Alfred's invitation, I went up to Berkeley to speak about Chicano music at one of his classes. After my presentation, we had lunch with several of his students and had some great conversation and a good time. In June of 2006, I took my band and performed in Riverside, CA at an event to raise funds for Arteaga's medical procedure in Thailand. In March of 2007, I went back to the Bay area to do a lecture/performance for Cesar Chavez day at the Marin County Civic Center. I e mailed Alfred to let him know about it. He showed up. Afterwords he and I, along with songwriter pc Muñoz and Assistant public defender Jose Varela, went to lunch at a Chinese restaurant and had some more great conversation. Alfredo had lost a lot of weight and looked great. He was soon to take some time off from teaching so he could travel. That was the last time I spoke with or saw him. Alfredo Arteaga was a great person, aside from being a brilliant poet and scholar. My article on my trip up to Berkeley is at this link: www.markguerrero.net/misc_38.php. Click here to read an article on Alfredo Arteaga and his passing.

---
Sal Chico
Latin/ Latin jazz musician and band leader passed away Wednesday, April 2, 2008 in Los Angeles. Sal started with the Armenta Brothers and went on to form his own group the Sal Chico Band, who was very popular in the 60s in East L.A. and around Southern California. He retired from his band in the early 70s after which Joe Espinoza, formerly of the Village Callers, took it over. He renamed the band Chico in his honor, and has kept it going ever since.

---
Freddy Fender
(born Baldemar Huerta)
Texas-Mexico border singer, who scored major hits with "Before the Next Teardrop Falls" and "Wasted Days and Wasted Nights," passed away Saturday, October 14, 2006 in his hometown of Corpus Christi, Texas. He was diagnosed with lung cancer in early 2006.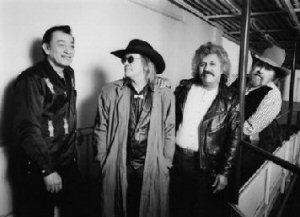 The Texas Tornadoes
Freddy Fender (3rd from left)
---
Chuck Rio
(born Daniel Flores)
saxophonist, keyboardist, singer, and leader of The Champs passed away on September 19, 2006 in Huntington Beach, California at the age of 77. He's best known as writer of the classic song "Tequila," which was released in January of 1958. He used the name Chuck Rio as writer of "Tequila" because he was signed to a different record label at the time. He continued to use Chuck Rio as a stage name thereafter.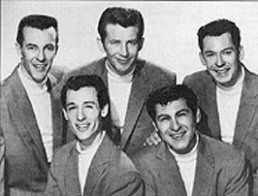 The Champs
Chuck Rio (2nd from right)
---
Dick "Huggy Boy" Hugg
disk jockey, who was beloved by the Latino community in Southern California for over five decades, passed away on August 30, 2006. Huggy Boy first began broadcasting with an all-night show from the front window of Dolphin's of Hollywood record store on East Vernon Avenue beginning in 1951. He worked for many radio stations in Los Angeles, including KRLA and KRTH.

---
Romeo Prado
talented brass man and arranger for Thee Midniters since their early days in the 60s, passed away on March 25th, 2006 at Queen of Angels Hospital in West Covina, California.

---
Armando Mora
tenor sax player with The Romancers in the early 60s, passed away on May 23, 2005. Armando played sax on The Romancer's instrumental albums "Do the Slauson" and "Do the Swim," both on the DelFi label. It's Armando Mora playing both saxes on the best known, and my favorite track on the former album, "Slauson Shuffle." Click here to read my article on The Romancers.

---
Lalo Guerrero
The "Father of Chicano music," and my father, passed away on March 17, 2005 in Rancho Mirage, CA at the age of 88. Read about his memorial services on my website at the following links: Palm Springs Services, Tucson Services.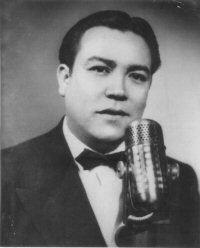 Lalo Guerrero (c. 1949)
---
Don Tosti
legendary Chicano musician/composer/arranger Don Tosti passed away, August 2, 2004, at his home in Palm Springs, CA at the age of 81. Read about his extraordinary life and career on "My Chicano Music Articles" page, article 3.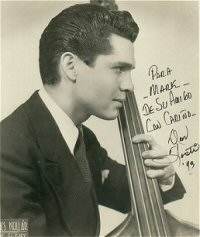 Don Tosti (c. 1949)
---
Larry Tackett
former vocalist with the duo Meep Meep & the Roadrunner, passed away March 8, 2004. His duo recorded a single for Eddie Davis' Boomerang label in the early 60s, produced by Billy Cardenas and backed by Ronnie & the Casuals. The songs recorded were "Justine" and "B Flat Blues." Billy Cardenas called me and asked me to put this information up on my website.

---
Rudy Valona
influential lead guitarist for The Blendells in the 1960s, passed away December 26, 2003. The Blendells, from East L.A., scored a national hit record with "La La La La La" in 1965. Rudy and his music will be missed.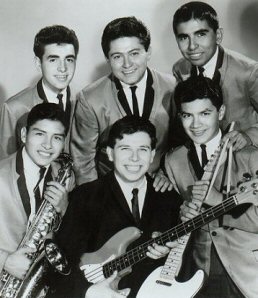 The Blendells (c. 1965)
Rudy Valona (front row right)
---
Phillip Earl Tucker
vocalist and pianist, who was half of the vocal duo of Phil and Harv, passed away on February 11, 2001 in Oxnard, CA at the age of 59. The duo was part of The Mixtures that did several records with Phil, including the popular "Eastside Sound" classic "Darling." The song was later covered by East L.A.'s Salas Brothers, Steve and Rudy, who later formed the hit band Tierra. Click here to go to a Phillip Earl Tucker memorial page.

---
Joe "Yo Yo" Jaramillo
original member of Cannibal & the Headhunters passed away on May 24, 2000. Along with his brother Robert "Rabbit" Jaramillo, Richard "Scar" Lopez, and Frankie "Cannibal" Garcia, Joe toured with The Beatles in 1965 as a result of their national hit record "Land of a Thousand Dances."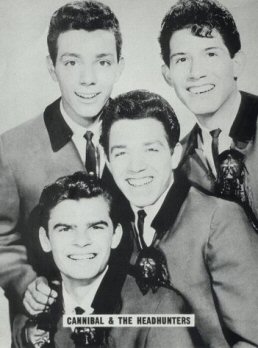 Cannibal & the Headhunters (c. 1965)
Joe "Yo Yo" Jaramillo (top left)
---
Eddie Serrano
lead vocalist who began his career in the mid-60s with Thee Enchantments, who were part of the golden age of the "Eastside Sound" in East Los Angeles. In the late 60s, Serrano was a member of Cannibal & the Headhunters with Frankie "Cannibal" Garcia. In the early 70s, he shared lead vocal duties with George Ochoa in Olde Tyme Religion (Warner Brothers Records) and Yaqui (Playboy Records). He picked up again singing with Frankie Garcia in Cannibal & the Headhunters and took over the Cannibal role with Frankie's blessings when Garcia retired due to health issues. Eddie Serrano passed away at Los Angeles County/USC Medical Center on Tuesday August 25, 1998 from injuries he sustained on August 17, 1998 when he was hit by a hit and run driver near Monterey Road and Huntington Drive in the South Pasadena area.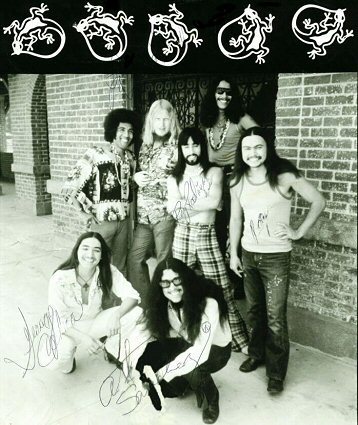 Yaqui (c. 1972)
(Eddie Serrano is back row right)
---
Frankie "Cannibal" Garcia
lead singer of Cannibal & the Headhunters passed away on January 21, 1996. Frankie, who grew up in East Los Angeles, came up with the "na na na na na" hook on the group's 1965 hit record "Land of a Thousand Dances." Cannibal & the Headhunters toured with The Beatles that year, starting with the historic show at Shea Stadium in New York.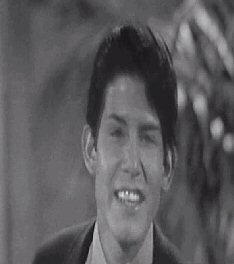 Frankie "Cannibal" Garcia