El Chicano: Latin Rock Pioneers
by Mark Guerrero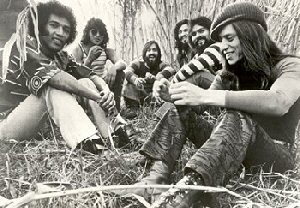 One of the best and most successful bands to emerge from the musically fertile ground of East Los Angeles is El Chicano. Originally formed as the V.I.P.s in the late 60's, the group recorded a rendition of a song by jazz composer Gerald Wilson, "Viva Tirado," an homage to a Mexican bullfighter by the name of Jose Ramon Tirado. The album and single were released on MCA Records in 1970. With the cultural awakening of the Mexican- American in full swing and the new Chicano consciousness on the rise, the band was renamed El Chicano. The record became a local hit in Los Angeles, remaining at number one for thirteen consecutive weeks. It also did well in New York, Baltimore, the South and the Midwest. It was historically significant because it was the first single to attain positions in all popular music categories except country and western. The recording had a definite mid-tempo Latin jazz feel and was an instrumental, featuring the Hammond organ of Bobby Espinosa and the Wes Montgomery-inspired guitar of Mickey Lespron. With the success of their first record, they toured extensively, playing the Ohio Jazz Festival and became the first Chicano band to perform at the legendary Apollo Theater. El Chicano went on to release six other albums with MCA, which include, "Revolution" (1971), "Celebration" (1972), "El Chicano" (1973), "Cinco" (1974), "The Best of Everything" (1975)" and "Pyramid" (1976). Also in 1976, they recorded an album called "This Is El Chicano" for the independent Shady Brooke label. It was the first record on which they had been in full creative control. During this period they had hits with their version of Van Morrison's "Brown-Eyed Girl" in 1972 and "Tell Her She's Lovely," which reached number 40 on the national charts in 1973. In 1982, they recorded an album for CBS entitled, "Do You Want Me."
In the ensuing years, El Chicano has made a huge name for themselves in Japan and abroad. They have performed in such diverse places as Nicaragua, Canada, Malaysia and Korea. They have performed on the same bill with such diverse artists as Rod Stewart, Michael Jackson, ZZ Top, Earth, Wind and Fire, Olivia Newton-John, Chaka Kahn, Chicago, Santana and War. Their success prompted MCA to reissue a greatest hits collection entitled, "Viva! El Chicano, Their Very Best" in 1988, and five of El Chicano's MCA albums to be re-released on Bomba Records, as a Japanese import, in 1995. In addition to touring, El Chicano has appeared on the "Donny Brasco" (Tri Star) soundtrack with "The Latin One" (1998) as well as doing the entire score in collaboration with John Taylor (Duran Duran) for the movie "Mi Vida Loca" ("My Crazy Life") in 1995. In 1997, El Chicano resurfaced on Thump Records with the release of "Latin Legends Live," a live recording that also includes the Chicano bands Malo and Tierra. The groups went on to do a Southwest tour for the release.
I played on the same bill with the V.I.P.s many times with my bands Mark & the Escorts in 1965 and the Men from S.O.U.N.D. in '66. According to some flyers I still have, we shared the same stage nine times at such Eastside venues as the Montebello Ballroom, Boulevard Theater, Kennedy Hall, and the Big and Little Union Halls. Years later, in 1972, I was on the same bill with El Chicano at the "Feria de la Raza" concert at Cal State L.A., when I was a solo artist with Capitol Records. I also saw them perform at Magic Mountain in Valencia, CA in the early 70's where they tore it up and, most recently, a couple of years ago at the House of Blues in L.A. I was very impressed with them that night. They played some great instrumentals and had the vocal contributions of veteran East L.A. vocalists Steve Salas, formerly of Tierra, and Geree, one of the finest Mexican-American female singers of all time. El Chicano has gone through many personnel changes over the years, but the one constant is Bobby Espinosa. It's become much like the Steely Dan model, where it started as a band with a set lineup and evolved into Donald Fagen and Walter Becker and whatever sidemen they hire. El Chicano's lineup on their first album was: Bobby Espinoza, organ, Andre Baeza, congas, Freddie Sanchez, bass, Mickey Lespron, guitar, and John De Luna, drums. Other members during the 70s were: Ersi Arvisu, lead vocals, Rudy Regalado, timbales, Max Garduno, congas, Danny Lamonte, drums, Brian Magness, bass, Joe Perreria, bass, Jerry Salas, lead vocals and guitar, and Rudy and Steve Salas of Tierra fame, on guitar and lead vocals respectively. Whatever the lineup, El Chicano always has excellent musicians and are musically very tight.
In 1998, El Chicano recorded a new album entitled, "Painting the Moment." It is their first new collection of songs in well over a decade. It also marks the return of original guitarist, Mickey Lespron, after a 20 year absence. I'm personally happy to hear that Mickey is on this album because he and Bobby have a great musical chemistry together. After all, it was that team that put El Chicano on the map in the first place. The new album features instrumentals as well as vocal performances by Steve Salas. In the words of bandleader Bobby Espinosa, "This album is an evolution of the El Chicano of the 70's. With our well known sound signature, we've managed to keep the original musical formula intact while taking it to a new level by adding horns. I am very pleased with the results." In 1997, MCA released another collection of El Chicano songs entitled, "Chicano Chant" and Varese Sarabande recently reissued their self-produced 1976 album, "This Is El Chicano." If you'd like a sampling of what the early El Chicano was all about, I recommend, "Viva! El Chicano, Their Very Best" on MCA, and to hear what they're about now, pick up their new album "Painting the Moment" on Thump Records.
Updates
In 2000, I got an e mail from Jerry Salas, who sang lead on most of El Chicano's albums as well as their hit "Tell Her She's Lovely." He had run into Little Willie G. who was performing in Portland, Oregon, where Jerry now lives. Willie told him about my website and he contacted me. Jerry has a Christian band, who in 2001 performed in Brazil for 90,000 people live plus millions via television. He's doing concerts around Oregon and recording albums for his church. In November of 2005, Jerry Salas came out to Palm Springs for a visit. He is now back with El Chicano and living in Southern California. They also have Fred Sanchez (original bassist) and Rudy Regalado (original timbalero/percussionist) back in the band. Jerry says Bobby Espinoza is back on the Hammond organ with a Leslie speaker, instead of a digital keyboard. All these factors are good news to El Chicano fans. You can be sure El Chicano is sounding great, particularly with Jerry's strong vocals and dynamic performing style. Mickey Lespron, El Chicano's original lead guitarist, is no longer with the band. He's playing in a band with original female vocalist of El Chicano, Ersi Arvisu, called La Chicana & Her Revue. While in Palm Springs, Jerry Salas did a radio interview with me for my new show "Chicano Music Chronicles" on crnlive.com. It was his segment of a show featuring the music El Chicano. He also came out to my local gig and sang a few songs with my band. I also occasionally see original drummer, John De Luna, when he comes to the Palm Springs area. He sat in with my band for a couple of songs in 2001.
In October 2002, Freddy Sanchez (El Chicano's original bassist) and his wife visited me at my home gig in Palm Springs. It happened to be Halloween night. We hadn't seen each other since the early 70s. Freddy now manages El Chicano and runs their website out of Phoenix, Arizona. The website uses my article on El Chicano on their history page. As I mentioned in the paragraph above, Freddy is now (in 2005) back with El Chicano.
On November 1, 2003, Mark Guerrero & Radio Aztlán shared the stage with El Chicano, Tierra, Thee Midniters with Special Guest Little Willie G. The East L.A. Revue All Stars featuring The Premiers, The Best of Everything, and Cauldron, at the Latin Oldies Festival 2003 at Arrowhead Credit Union Park in San Bernardino, CA. El Chicano, led by founding member and keyboardist Bobby Espinoza, sounded as good as ever with a set that included their hits "Viva Tirado," "Brown-Eyed Girl," and "Tell Her She's Lovely." On October 16, 2004, I performed on the bill with El Chicano again at the John Anson Ford Amphitheater in Hollywood, CA for a Day of the Dead celebration.
On Saturday, October 16, 2004, I performed with my band Mark Guerrero & Radio Aztlán on the bill with El Chicano for a Day of the Dead celebration concert at the John Anson Ford Amphitheater in Hollywood.
In January of 2006, I interviewed Fred Sanchez and Jerry Salas for my internet radio show, "Chicano Music Chronicles." I played eleven of my favorite El Chicano tracks and we talked about them. The interview gives insight into El Chicano's music and career. It aired multiple times in the month of March 2006 on crnlive.com. You can hear it at your convenience on my website on my "Chicano Music Chronicles" page" where it is archived. A high speed internet connection is recommended. Click here for a shortcut to the page.
On March 23, 2007, El Chicano performed at the opening night gala for the Lalo Guerrero Film & Arts Festival in Palm Desert, California. My acoustic trio also performed and I sang "Brown-Eyed Girl" with El Chicano, sharing the lead vocal with Fred Sanchez. I also presented them the first Lalo Guerrero Lifetime Achievement Award at the conclusion of their set. You can read about the event, with a photo gallery, by clicking here.
On Sunday, October 14, 2007, I performed on stage with El Chicano at the Gibson Amphitheater in Universal City for a benefit for the restoration of the Garfield High School Auditorium which was destroyed in a fire. Other performers on the bill included Los Lobos, Tierra, Little Willie G., Little Joe y La Familia, and Upground.
On November 11, 2008, I performed on the bill with El Chicano on a PBS special called "Trini Lopez Presents Latin Music Legends." Also performing on the show were Trini Lopez, Little Willie G. & Thee Midniters, Tierra, the Greg Rolie Band. I performed a tribute song to my dad, Lalo Guerrero, backed by Tierra. The show will air in March of 2009 and be released on DVD and CD.
On October 25, 2009, El Chicano performed at "West Fest" celebrating the 40th anniversary of Woodstock at Golden Gate Park in San Francisco. Other artists included the Jefferson Starship and Country Joe McDonald.
On Sunday, November 15, 2009, I sat in with El Chicano at the Paloma Room in East Los Angeles for a benefit for the then ailing the legendary percussionist, Victor Pantoja. Also sitting in with El Chicano that day were Sal Rodriguez of War on timbales, Poncho Sanchez, Joey Guerra (formerly of Tierra), and Victor Pantoja himself. Victor Pantoja passed away a few months later on March 12, 2010. It was also the last performance of organist and founding member of El Chicano, Bobby Espinoza, who passed away on February 28, 2010.
On Saturday, December 5, 2009, I performed a duo acoustic set with Jerry Salas of El Chicano at the screening of the "Trini Lopez Presents Latin Music Legends" for the Coachella Valley Latino Film Festival. I sang lead vocal on my dad's "Los Chucos Suaves" and my "On the Boulevard." Jerry sang lead on his "I Will Always Be Loved" and El Chicano's hit song "Tell Her She's Lovely." Earlier that same day, I sang the co-lead vocal with Jerry Salas on "Brown Eyed Girl" with the Geo-Latin All Stars, which was comprised of members of Tierra, El Chicano, and Sal Rodriguez of War on drums. Also guesting was Arcelio Garcia of Malo.
On Friday, June 11 2010, I guested with El Chicano at Spotlight 29 Casino in Indio, CA. I sang co-lead vocal with Jerry Salas on their hit version of "Brown Eyed Girl."
On Saturday, September 19, 2010, El Chicano and I shared the bill at Palm Springs Fiesta Days. I was backed by Frankie Garcia's Cannibal & the Headhunters, along with Bobby Robles of Thee Midniters, and Victor Cisneros and Dale Villavicencio of Tierra. I also performed with Frankie Garcia's Cannibal & the Headhunters. Also on the bill that night were Mariachi Reyna de Los Angeles, Los Fabulocos featuring Kid Ramos, and Tierra.
On Saturday, December 18, 2010, I sang background vocals on "Tell Her She's Loveley" with El Chicano at the Gibson Amphitheater in Universal City for "Chicano Soul Legends," which also featured Tierra, Malo, Joe Bataan, and Thee Midniters.
mp3 Sound Bytes
Tell Her She's Lovely - El Chicano 1973
Painting the Moment - El Chicano 1998

Selected El Chicano You Tube Video

El Chicano "Viva Tirado" (1971)
Cl for

Click here to go to the El Chicano store at amazon.com



Previous page || Go to next article